E-BOOKS

Perhaps you would like to learn more about Neurotango® now?
The advantage of e-books is obvious. Order them free of shipping costs and always have them with you.
OVERVIEW OF NEUROTANGO TEXTBOOKS AS E-BOOK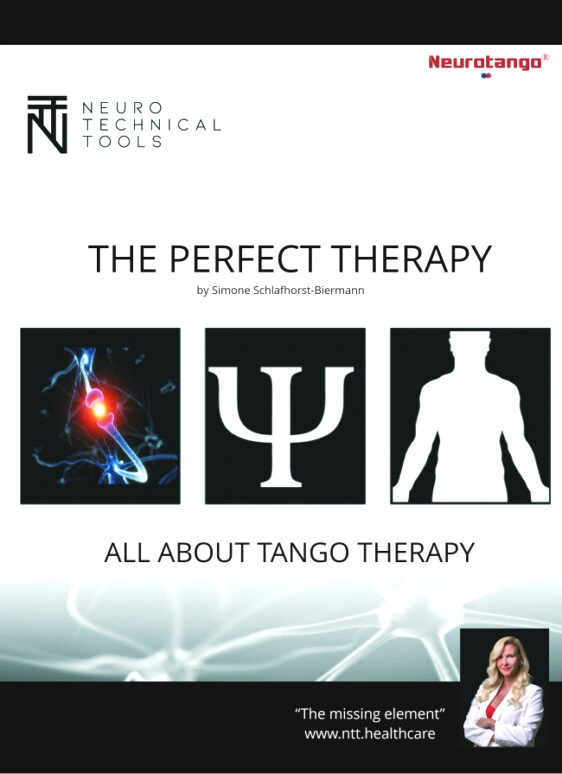 NEUROTANGO
®
- THE PRINCIPLES OF TANGO THERAPY
File format: pdf (download)
Neurotango® is a holistic tango therapy method developed by Simone Schlafhorst according to the latest
scientific studies and findings in brain research, gerontology, learning psychology and neuro-motor research.
The #NeurotangoTools by Simone Schlafhorst, like e.g. dynamics and contra body movements, are borrowed
from the Argentine Tango, simplified and complemented by neuromotor, cognitive and kinesiological exercises
for neurological diseases (#NT-Neurotools) and with further pre-exercises for psychologic target groups
(#NT-PsychoTools).
The concept intended the simultaneous stimulation of new brain connections and the creation of new brain
patterns in multiple areas.
This method is applied Europe wide by psychologists, physiotherapists, occupational therapists, neurologists,
and other medical doctors to improve or expand motor, physiological, cognitive or on social abilities.
The brain is the only organ which controls the functions for psychological as well as motor, cognitive, and
sensitive processes. Neurotango® starts right there:
as a holistic preventive, secondary preventive and curative therapy/training/or coaching method.
ISBN: 978-3-9822256-3-0
Refunds can only be made within a maximum of 60
days
(after date of purchase).
THE PERFECT THERAPY - ALL ABOUT TANGO THERAPY
E-book: THE PERFECT THERAPY - all about tango therapy
Author: Simone Schlafhorst-Biermann
File format: epub (download)
ISBN: 978-3-910719-33-0
The official workbook for the certiefied Training as
TANGO THERAPY PRACTITIONER 2023/2024.
Neurotango® Practitioner in Europe or NTT Practitioner (worldwide).
The Neuro Technical Tools (NTT) or Tango Tools are designed for physical, psychological, and social therapy forms. They incorporate physical, cognitive, and interactive exercises with music that are rooted in scientifically proven principles of brain functioning.
It is a method based on tools that are easy to apply, requiring no previous dance or
music skills. These tools can be adapted to exercises involving movement, sitting, or
lying down.
ISBN:
978-3-910719-33-0
Refunds can only be made within a maximum of 60
days
(after date of purchase).
EVEN MORE CHOICE IN OUR SOFTCOVER BOOKS